Xth International School "PARTICLES and COSMOLOGY"
April 19 - 25 , 1999
Baksan Valley, Kabardino-Balkaria, Russia
---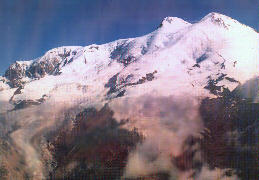 Mount Elbrus - 5642m - the highest summit in Europe and Russia: apart from its beauties, it is a wonderful ski sloping area. Elbrus lies at the upper Baksan Valley, just north of the main Caucasus Chain - a range almost 1600km long with a heavily glaciated central section containing several summits rising well above 5000m. The snow in the Caucasus is virtually guaranteed, there is good powder to be found late into the season, and the season is long. Pine forests, alpine meadows, mineral springs, glacial rivers and periods of settled weather complete the picture of the School's site.



               Elbrus from Cheget



---
Topics included:
Recent Developments in Particle Physics and Cosmology
Neutrino Masses and Oscillations
Atmospheric Neutrinos
Solar Neutrinos - Theory and Experiment
Dark Matter
Gamma and Neutrino Astronomy / Astrophysics
Double Beta Decay
Gravitational Wave Detection
New Methods and Projects in Underground / Underwater / Under-Ice Physics
Selected Results from Accelerators and Observational Astrophysics and Cosmology
Advisory Committee:
J. Arafune (ICRR, Univ. of Tokyo)
J. Bahcall (IAS, Princeton)
M. Baldo-Ceolin (INFN, Padova U.)
E. Bellotti (INFN, Gran-Sasso)
T. Bowles (Los Alamos)
A. E. Chudakov (INR, Moscow)
A. Dar (Technion)
R. Davis, Jr. (Philadelphia U.)
F. Dydak (CERN)
J. Ellis (CERN)
E. Kolb (Fermilab)
V. A. Kuzmin (INR, Moscow)
J. Learned (Hawaii U.)
A. Linde (Stanford U.)
B. Sadoulet (UC, Berkeley)
A. A. Starobinsky (Landau Inst., Moscow)
A. N. Tavkhelidze (Georgian Academy of Sciences and INR, Moscow)
Y. Totsuka (ICRR, Univ. of Tokyo)
M. Turner (Chicago U.)
K. Winter (CERN)
Ts. D. Vylov (JINR, Dubna)
G. T. Zatsepin (INR, Moscow)
Organizing Committee:
V. A. Matveev - Chairman
V. A. Rubakov - Vice-Chairman
E. N. Alexeev - Vice-Chairman
L. B. Bezrukov
V. B. Brudanin
V. N. Gavrin
B. S. Karamurzov
Kh. B. Khokonov
S. P. Mikheev
A. V. Voevodsky
Z. V. Bezbokova
N. F. Klimenko
Kh. S. Nirov
G. B. Pivovarov
D. V. Semikoz
A. A. Smolnikov
I. I. Tkachev
Organizing Institutions:
Institute for Nuclear Research, Russian Academy of Sciences
Los Alamos National Laboratory, USA
Joint Institute for Nuclear Research, Dubna, Russia
Kabardino-Balkarian State University, Nalchik, Russia
Acknowledgements:
The Organizing Committee is deeply indebted to the Kabardino-Balkarian Scientific Center of the Russian Academy of Sciences and especially to its Chairman, Prof. P.M. Ivanov, for a very helpful cooperation and support in organization of the School.

Photographs Courtesy of EWP (Thanks to Andrew Wielochowski).
---
Applications to be sent to:


Baksan School - 1999, 
Institute for Nuclear Research of
the Russian Academy of Sciences,
60th October Anniversary Prospect 7a,
117312 Moscow, Russian Federation




Telephone: 7-(095)-135-20-51
      Fax: 7-(095)-135-22-68
   E-Mail: school@ms2.inr.ac.ru


---
Baksan-99 news on line: